John Cheek, Jr., of Essex
and King & Queen Counties, VA
John Cheek, Jr., son of John CHEEK, Sr., was born around 1680-1690 in Old Rappahannock (Essex) Co., VA, and probably died after 1750 in King & Queen Co., VA. He married SINA, last name unknown.
Possible children of John Cheek, Jr.:
John Cheek (Chick), probably b. bet. 1720-1730, Essex Co., VA; d. unknown. John Cheek/Chick, JR., is mentioned in the record books of the merchant Noonian BOOG, 1749-1750. (Mag. of VA Gen., Vols. 28 & 29.) He might be the John Chick Jr. who proved a deed from Wm. & Elizabeth MERIWETHER to Charles BURRUS in Caroline Co., VA, on Mar. 8, 1744/45 (Caroline Court Order Books). He might be the John Chick Jr. who was named executor of the will of Henry PAGETT of South Farnham Par., Essex Co., VA, Sept. 28, 1745 (Essex WB 1743-1747, pp.403-406). Then no further records unless he is the John Chick of Hanover Co., VA, who purchased 100 acres in Spotsylvania Co., VA, from James & Agnes WARE on May 7, 1770. There is also a possibility that he is the John CHICK of Prince William Co., VA, who died testate in 1789; however, that John Chick was probably b. 1740-1750 based on the ages of his children.
+William Chick, probably b. bet. 1720-1730, Essex Co., VA; might be the William Chick of Drysdale Parish, Caroline Co., VA, who moved to Halifax (later Pittsylvania) Co., VA, in 1763, where he died testate in 1790.
+Richard Cheek, probably b. bet. 1720-1730, Essex Co., VA; d. 1790-1792, King & Queen Co., VA; m. (1) unknown; m. (2) Elizabeth RYLAND, widow of Joseph RYLAND, 1778.
+Robert Cheek, b. abt. 1730, Essex Co., VA; d. bet. 1817-1820, Orange Co., NC; m. Ann COCKE, daughter of Brazure & Frances COCKE, around 1761, Brunswick Co., VA.
+James Chick, b. abt. 1734, Essex Co., VA; d. bef. Mar. 1780, Caroline Co., VA.
Notes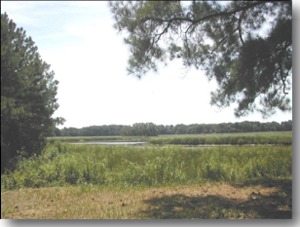 Mount Landing Creek
near Tappahannock, Virginia

ohn Cheek, Jr., was probably born in sometime in the late 1600's. A rough estimate is between 1680-1690. His name does not appear on the 1704 "quit rent" roll of Essex County, which suggests he did not own land in 1704, although the roll is also known to be incomplete. Many people obviously tried to stay off the quit rent rolls to avoid paying taxes.
John Cheek's (presumed) father, John Sr., appears to have died between 1699 and 1709. John Jr. must have obtained land prior to 1714 when he sold 100 acres in South Farnham Parish to Erasmus ALLEN. In all, several different deeds from Essex County indicate that John Cheek owned land in the vicinity of Gilson's Creek (now called Mount Landing Creek), Hoskin's Creek, and Piscataway Creek, all of which are near the town of Tappahannock, Virginia.
During the 1740's, John Cheek and his family appear to have moved from Essex County to neighboring King & Queen County, where they settled in Drysdale Parish, in the upper part of the county. Most of the records from King & Queen County were burned during the Civil War, but the presence of John Cheek and his family is documented by a merchant's account book and a few other records.
The name of John's wife, Sina, comes from a land deed from Essex County, VA, dated Mar. 6, 1714/15, where it is spelled phonetically "Sinor". In some British dialects, people pronounce an "r" at the end of words ending in "a" -- for example, they may talk about the death of "Princess Dianer." This characteristic can also be heard in places like Appalachia and especially Boston, where people say things like "I have an idear" instead of "idea." In old census records from North Carolina, I have seen names spelled phoenetically in very interesting ways, such as "Louzanner" (Louisiana), "Oriller" (Aurelia), and "Macajer" (Micajah).
The name "Sina" was probably short for a name ending in "-sine" such as Thomasine. Some sources identify her as Sinor DYER. This does not appear to be documented, although it is true that the Cheeks were neighbors of the Dyer family in Essex County.

Go to: